About Thomson Reuters in Canada
Thomson Reuters provides professionals with the intelligence, technology and human expertise they need to find trusted answers.
We enable professionals in the financial and risk, legal, tax and accounting, and media markets to make the decisions that matter most, all powered by the world's most trusted news organization.
Thomson Reuters shares are listed on the Toronto and New York Stock Exchanges (symbol: TRI).
Toronto
2075 Kennedy Road
Toronto, Ontario M1T 3V3
+1 416.609.8000
245 Bartley Drive
Toronto, Ontario M4A 2V8
+1 416.609.8000
333 Bay Street
Toronto, Ontario M5H 2R2
+1 416.687.7500
Montreal
75 Rue Queen
Montreal, Quebec H3C 2N6
+1 514.842.3937
3333 Graham Boulevard
Montreal, Quebec H3R 3L5
+1 514.733.8355
Calgary
407 2nd Street SW
Suite 312
Calgary, Alberta T2P 2Y3
Vancouver
350 – 969 Robson Street
Vancouver, BC V6Z 2V7
+1 604.561.5275
An Award-Winning Place to Work
Thomson Reuters in Canada has been recognized as a desirable place to work for the past several years.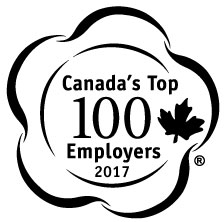 Thomson Reuters
$12.6 billion 2014 revenues
26.3% adjusted EBITDA margin
17.0% underlying operating profit margin
James C. Smith, President and Chief Executive Officer