Project Management for Accountants
Onvio Firm Management features
Our modular approach means that with Onvio Firm Management powering your firm, you can tailor your software to your firm's work style and stay synchronized with colleagues and clients on a single, universally accessible platform.
The Onvio Firm Management suite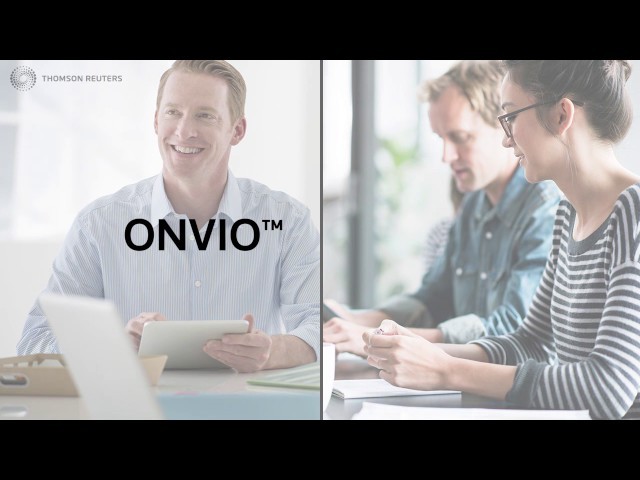 03:12
Centralized data management and real-time updates means everything that you and your clients do is instantly reflected across your Onvio products.
The Onvio suite is accessible from any device, so you, your staff, and your clients have the freedom to interact where, when and how you choose.
Perhaps most important, Onvio Firm Management offers enterprise-level security with multiple layers of digital and physical security that give you the first, best line of defence for your clients. The flexibility of Onvio means that as your needs and your clients' needs change and grow, Onvio Firm Management can grow with you.
From portals to document management, Onvio Firm Management has integrated solutions designed just for you.
Overview
What do you get when you combine the usability of a traditional document management system with the collaboration capabilities of the cloud?

You get end-to-end, cloud-based document management with Thomson Reuters Onvio Documents. Its direct integration with our professional tax software DT Max and intuitive interface enable you and your staff to work closely with your clients to collect source documents and share finalized files.
Move files from desktop and web with a simple drag-and-drop action, or import documents from Google Drive, Dropbox, or Box.
Manage clients and staff from a single user-friendly administration module.
More secure collaboration
Use secure collaboration tools that don't require email to share documents with encrypted links, and to simplify your information requests. You can rest easy knowing that your data is secure and encrypted on our servers!
Find the files and information you need by using full-text search across a variety of document types, including Microsoft Word and PDF.
How it works with other Onvio modules
Overview
Combined with the intuitive Onvio Documents, Onvio Client Centre gives you the latest in true client and staff collaboration, enabling you and your clients to easily share documents and files in secure online client portals.
Work the way your clients work
Onvio Client Centre is optimized for tablet and web, so your clients can work from any device.
Upload documents in a snap
Drag, drop, scan or select documents to upload them.
Communicate with your clients
Make it easy for you and your clients to securely exchange documents with third parties. You can even give clients "tasks" that require their action.
Thanks to the ability to brand your firm's Client Centre, you can extend your brand to even more online interactions.
How it works with other Onvio modules
Overview
Run your firm at peak efficiency with Onvio Time & Billing. Its centralized data management and real-time synchronization makes sure you and your staff are always on the same page - no matter where, when or how you're working - while its fast setup and intuitive interface make it easy to enter time and expenses and create invoices and billing statements.
Convenient client billing
Bill clients at your convenience as often as you choose, by any method you prefer.
Choose from three time and expense entry options: time, daily entry, or grid entry - whatever fits your firm best.
Receipt and adjustment tracking
Track receipts and adjustments and apply them directly to invoices for accurate client balances
Review time and expense entries for all staff in a centralized screen and export to Microsoft Excel for analysis.
How it works with other Onvio modules
Overview
Onvio Project Manager combines the tools and resources you need in a practice management system that lets your staff manage their own responsibilities - while you remain in complete control with centralized data management and real-time synchronization.
Project generation you control
Control the way recurring projects are generated with flexible project generation.
Timesaving project templates hold default information to make project creation fast and easy.
Tailor project and task assignments
Assign projects and tasks to staff based on various criteria.
Manage projects more easily
Manage your project list and status from the My Assignments widget.
How it works with other Onvio modules
Try Onvio Firm Management