UK Common Law Library now available on Westlaw Canada
Access leading resources including Chitty on contracts, Phipson on evidence, and many more on a new online commentary platform accessible through Westlaw Canada's International tab. This platform revolutionizes the way you find, navigate, and access commentary titles. It creates an easy, intuitive, and efficient research experience across Westlaw UK commentary.
This new homepage unlocks the full potential of our online commentary by offering the features and functionality that bring you one step closer to a fully integrated, one-stop shop for all of your legal research needs.
Features and functionality
Intuitive index functionality allows you to browse and search all indexes, making it easier for you to find the content you need.
Browse and navigate to parts of the title in the table of contents. Document headers stay visible, so you'll never forget where you are when reading a title.
Email, print, download, and add content to a folder for later use.
View a title's table of contents as a single page or quickly access key references and related resources.
Tag Favourite titles for easy access, highlight text of high importance, or add your own notes.
Seamlessly move from your Practical Law legal know-how resources to your commentary titles, without logging in twice.
Access direct links within titles to cases and legislation on Westlaw UK to enhance and broaden your research.
Browse and search the full list of available titles or use the filters to narrow your search by topic, jurisdiction, publisher, in/out of subscription, or your favourite titles.
Quickly load sequential documents on a single page, or create your own view of a title and read what matters most through reading mode.
Learn more about UK Commentary (2:04)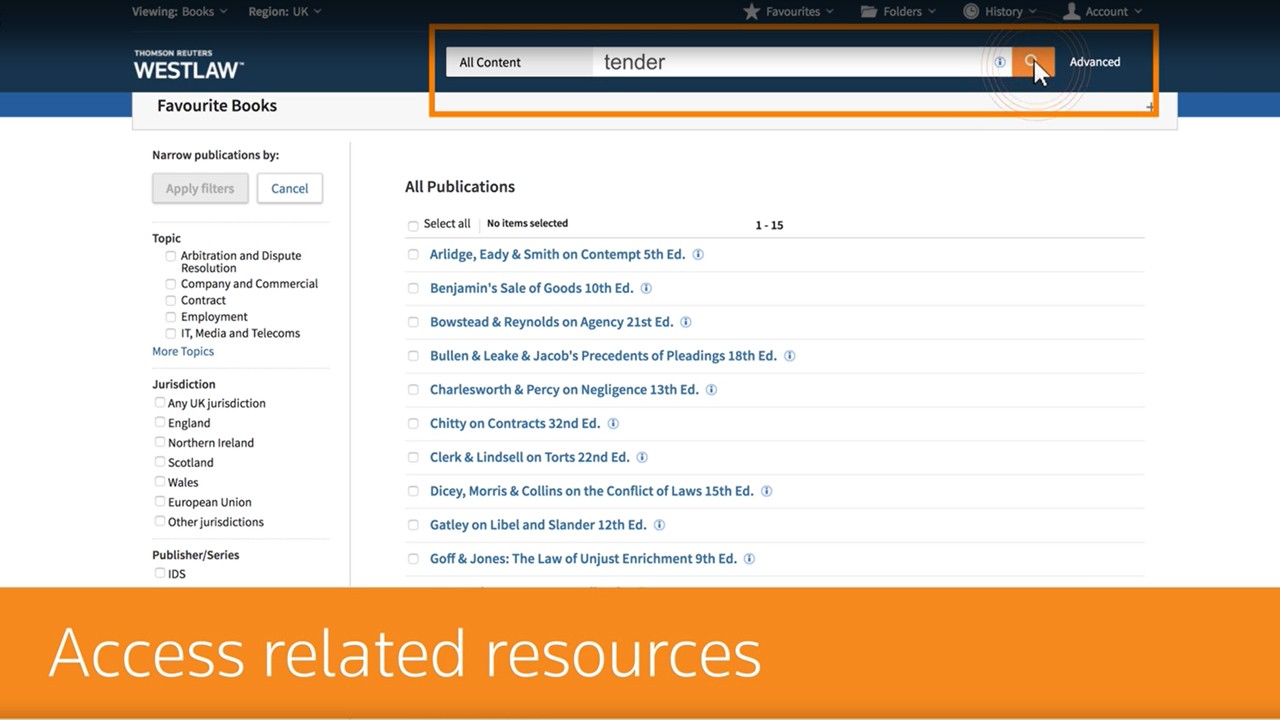 02:04
Enjoy access the following Common Law Library titles:
Arlidge, Eady & Smith on Contempt
A comprehensive and authoritative commentary that explains the principles, rules and practice involved in the law of contempt and explores all the aspects of contempt –including, for example, court powers, breach of orders, freedom of speech, liability for publication, journalists' sources, and postponement and restriction orders.
Benjamin's Sale of Goods
Explains the law of sales of goods, including terms and conditions, rights and obligations, the settlement of disputes, and the nature and formation of contracts.
Bowstead & Reynolds on Agency
A title frequently cited in courts both in the UK and the Commonwealth. It covers the full and authoritative interpretation and explanation of the law of agency, from the creation of an agency agreement, the authority of agents – expressed, implied and presumed, and the duties of agents towards their principals to duties of performance and fiduciary duties.
Bullen & Leake Jacob's Precedents of Pleadings
Presents a wide range of contemporary templates for drafting that can be easily modified for specific cases and covers all classes of litigation from common areas such as employment law to the more unusual such as sport.
Charlesworth & Percy on Negligence
The foremost guide to this complex area of the law provides an exhaustive reference for practitioners and academics. This title offers unrivalled depth of analysis into the torts of negligence and nuisance.
Chitty on Contracts
Provides coverage and guidance on all elements of contract law, including formation of contract, capacity of parties, terms of contract, obligation, performance, breach of contract and remedies. Volume 2: Specific Contracts offers comprehensive advice on particular types of contract, including credit and security, employment, gambling, insurance, carriage, construction, bills of exchange and banking, sale of goods, consumer contracts and agency.
Clerk & Lindsell on Torts
Provides guidance on both individual and commercial torts. The title focuses on specific areas of tort law including professional liability (medical, legal, architects and surveyors, and insurers and financial services), product liability and consumer protection, deceit, and trespass and defamation.
Gatley on Libel and Slander
Sets out potential remedies and examines possible defences, justification and privilege as well as apology and settlement. The title provides essential international coverage with cases from other jurisdictions and commentary on their relevance to UK law and procedure, including decisions from Canada, Australia, and New Zealand.
Goff & Jones: The Law of Unjust Enrichment
Examines the underlying principles of unjust enrichment and explains the various ways a right to restitution can arise. The title covers justifying factors, enrichment, the claimant's expense, and grounds for restitution. It also shows how the principles have been applied by the courts through detailed analysis of case law and legislation.
Jackson & Powell on Professional Liability
Examines the nature and types of professional liability. The title addresses the duties and obligations of a professional, including positive duties and restrictions. It considers the standard of skill and care, explains the nature of a fiduciary duty, and discusses the origins of the duty of confidentiality, including the continuing duty to former clients.
McGregor on Damages
Complete guidance on the law of damages, from compensatory and non-compensatory damages, remoteness of damage and certainty to liability, types of awards and remedies. The title coverage includes damage in specific areas such as sale of goods, sale and lease of land, financial services, construction, carriage, professional negligence, employment and agency, breaches of the underwriting of damages, restitution, and equitable awards policy.
Phipson on Evidence
Detailed coverage on all the complex principles and procedures that make up the law of evidence, including the rules of evidence, admission of evidence, the burden and standard of proof, the examination of witnesses, and evidence taken or served prior to a trial.