LawSource
Access a wealth of Canadian primary law, plus commentary and value-added tools.
LawSource™ is the principal authority for core legal information and houses an extensive collection of case law, legislation and leading editorial tools for the best legal research.
Westlaw Canada provides you with access to an extensive collection of important cases. You'll find coverage of unreported court decisions from 1986 forward and reported court decisions dating back to 1977. You can also view decisions that were published in Carswell's law reports from their inception and decisions predating 1977 from Westlaw Canada's key courts and law report series.
Collection and highlights include:
Full-text Decisions from Carswell Law report Series
Full-text Decisions from Canada Law Book Report Series
Full-text Decisions from non-Carswell Law Report Series
Full-text Decisions from the Supreme Court of Canada and Privy Council
Case law enhancements
Full details and listings of available case law can be found in the "What's In LawSource" Brochure
Access leading editorial tools for the best legal research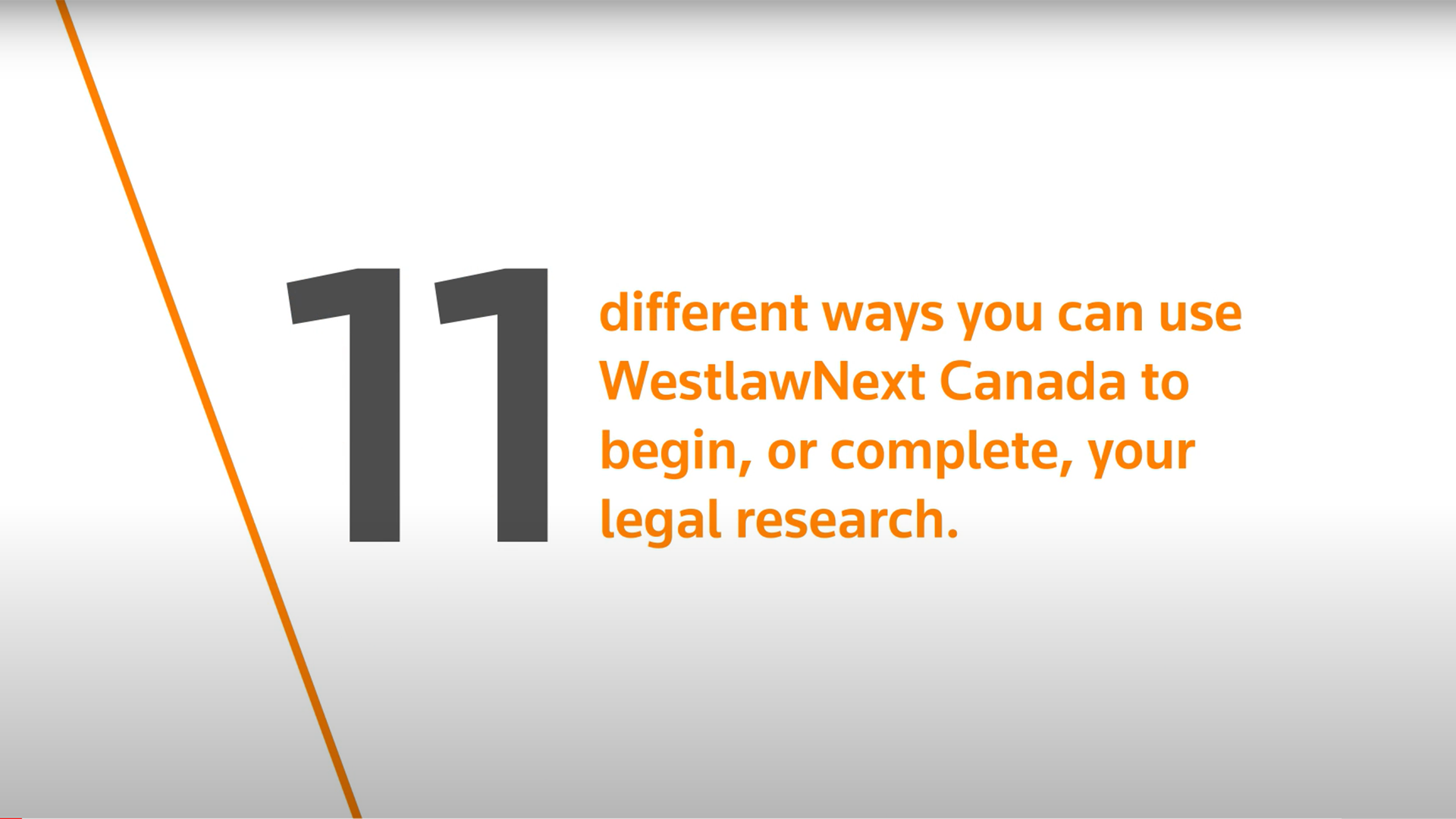 02:33
KeyCite Canada - case and legislative citator - provides a network of linking from primary law to a wealth of supporting material to help you understand the decision. When you note up a decision with KeyCite Canada, you see not only Canadian case law that has cited the decision you have noted up, but also foreign cases that have cited the decision, Canadian Encyclopedic Digest entries, law review and journal articles, and more.
When you rule or note up a statute, regulation, or rule with KeyCite Canada, in addition to the cases that have cited the legislation, you will also see references from annotated legislation and legal memos on Westlaw Canada.
A comprehensive collection of over a million digests of Canadian case law organized by legal issue according to a single taxonomy (The Canadian Abridgment Key Classification System). This collection is exclusive to Thomson Reuters, and covers virtually every reported or unreported case received from the courts since 1986, with the exception of Quebec civil law cases.
Canadian Encyclopedic Digest
The C.E.D. is a great place to begin your legal research. It provides you with a clear overview of any legal topic and gives you context to cases and legislation relevant to your issue. Over 225 subjects are listed alphabetically, with sub-topics to pinpoint the area of law you may be interested in. You can also link to Canadian and international cases and equivalent topics in the Canadian Abridgment Digest.
---
Electronic case digest designed to help you keep abreast of the latest developments in case law. Delivered right to your desktop and available in a multitude of specific topics. Canadian Abridgment eDigests are available as part of your subscription.
Tribunal Decision Coverage
Access tribunal decisions published in print reporters from 1997 forward, and the full text of all decisions reported in Labour Arbitration Cases since 1948. View the full list of tribunals for the federal jurisdiction and common law provinces.
---
Index to Canadian Legal Literature (ICLL)
The ICLL is Canada's only comprehensive legal bibliography, containing books, articles, government publications, audio-visual materials, continuing legal education materials, case comments and annotations (available in English and French). Westlaw Canada provides linking from ICLL references to full text of cases and articles. References are also displayed in Keycite Canada results.
The success of litigation and transactions can depend on the precision of your terminology. Words and Phrases gives you access to over 60,000 judicial interpretations of statutory and common law terms and how they have been interpreted by the courts.
LawSource Case Notes Newsletter
Released 40 times per year, The LawSource Case Notes newsletter on Westlaw Canada is a sample selection from the weekly summaries of notable civil and criminal court decisions published in Law Times newspaper.
Contact a representative for a demo or more information.