Estates&TrustsSource
Quick and easy access to all the resources you need for estate planning, estate administration, and litigation. 
Estates&TrustsSource is a collection of resources essential for an Estates, Trusts and Wills practice.  
Designed to meet both the research and workflow needs of all three types of estates practitioners: planners, administrators and litigators, Estates&TrustsSource will make it more easy and efficient for you to quickly create customized wills; find all related case law and legislation, and precedents and forms to deliver the best results for your clients.
Estates&Trusts Home Page is built to allow you to efficiently handle any estates and trusts matter whether your practice involves estate planning, estate administration and estate litigation.
Workflow Solutions provides quick points of access to the material estates and trusts practitioners use most often and is conveniently divided into Estate Planning, Estate Administration and Estate Litigation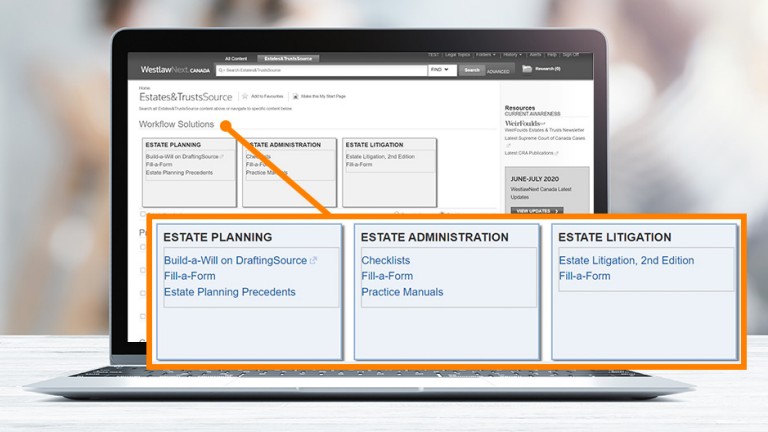 ---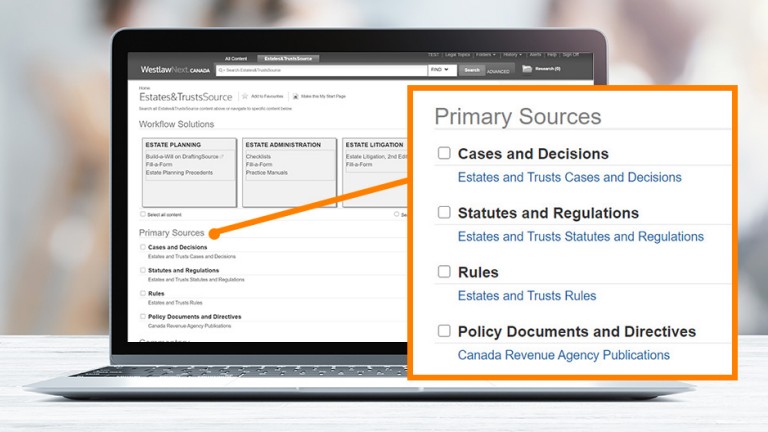 Primary Sources provides easy access to Cases and Decisions, Statutes and Regulations, Rules and CRA policy documents.
---
Commentary provides direct access to some of Thomson Reuters most highly regarded texts such as Waters' Law of Trusts and Widdifield on Executors and Trustees, as well as regional practice manuals and the CBA concordances. Subscribers can also access the CEDs relating to estates and trusts and articles and newsletters.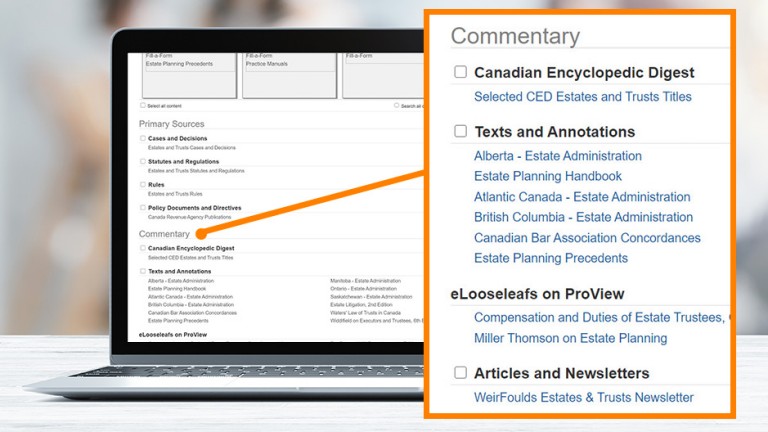 ---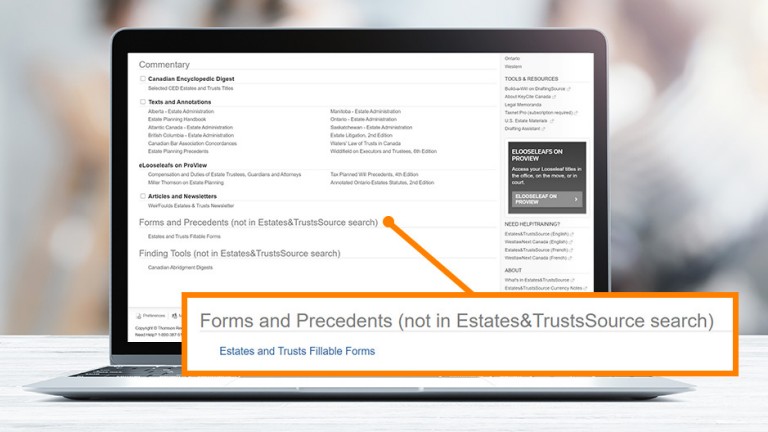 Forms and Precedents provides a direct link to statutory forms and authored precedents in the three practice areas.
---
Finding Tools provides direct access to Canadian Abridgment Digests.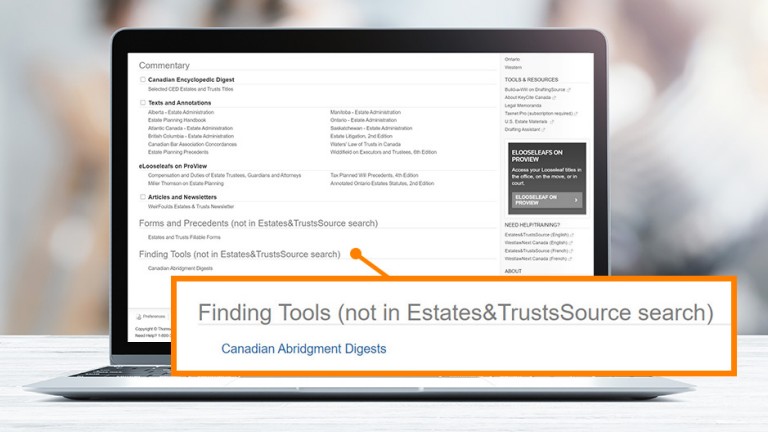 ---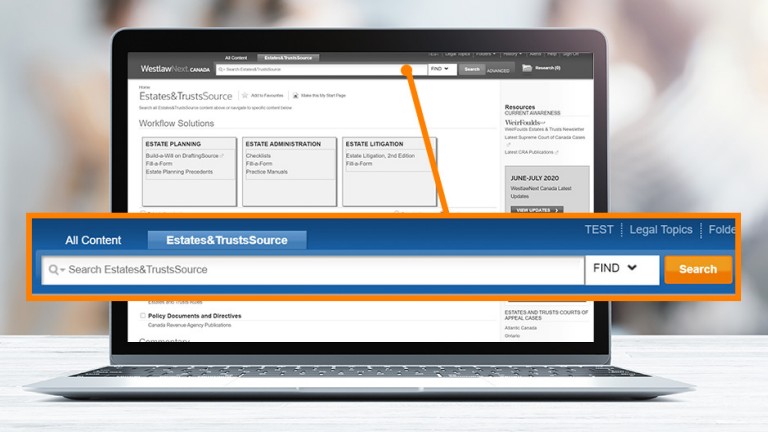 Global Search Box allows subscribers to conduct searches across the Estates&Trusts Source materials
---
Current Awareness offers subscribers easy access to the Weirfould Estates & Trusts Newsletter, the latest SCC decisions and the latest CRA publications pertaining to estates and trusts.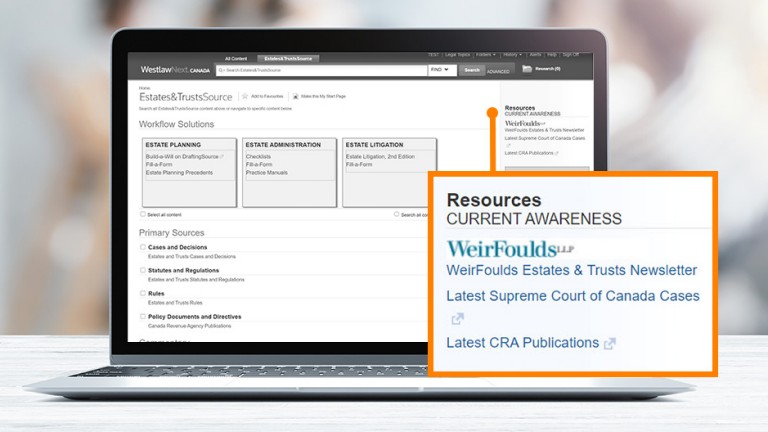 ---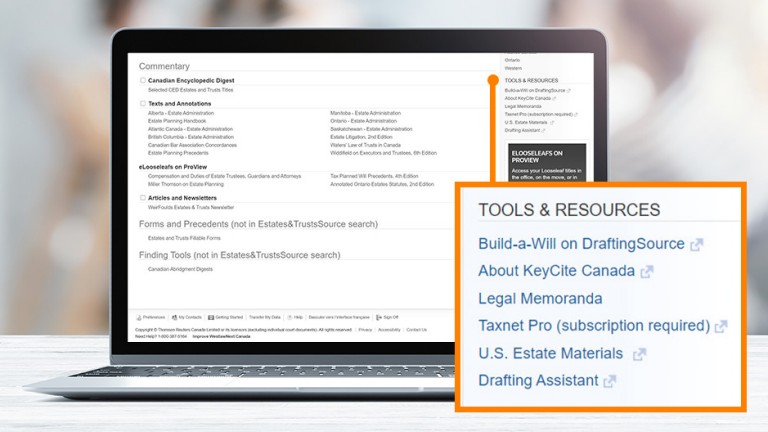 Tools & Resources allows one click access to Build-a-Will, Legal Memoranda, Carswell's eReference Library™ and to Taxnet Pro™ for subscribers of that product.
---
About provides users with a link to a review of the content coverage and currency.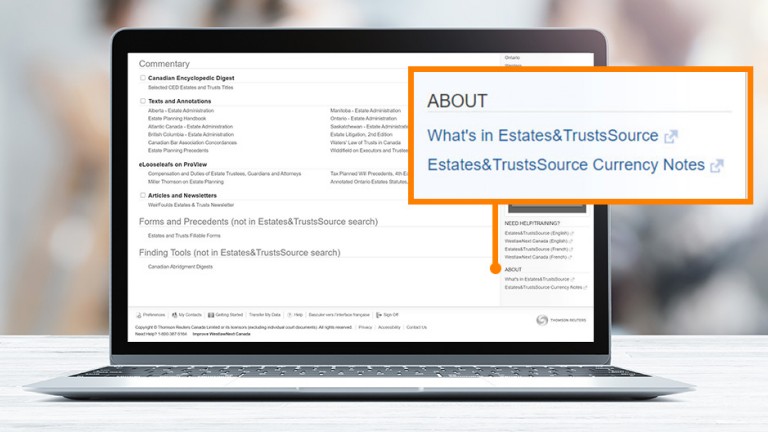 Estates&Trusts Home Page is built to allow you to efficiently handle any estates and trusts matter whether your practice involves estate planning, estate administration and estate litigation.
Whether you're creating a simple will or a complex estate plan, our tools and resources will help you get the job done. Get access to fillable forms such as Trusts, Deeds, Domestic Contracts, Powers of Attorney, Life Insurance Declarations and many more.
Histrop's Estate Planning Precedents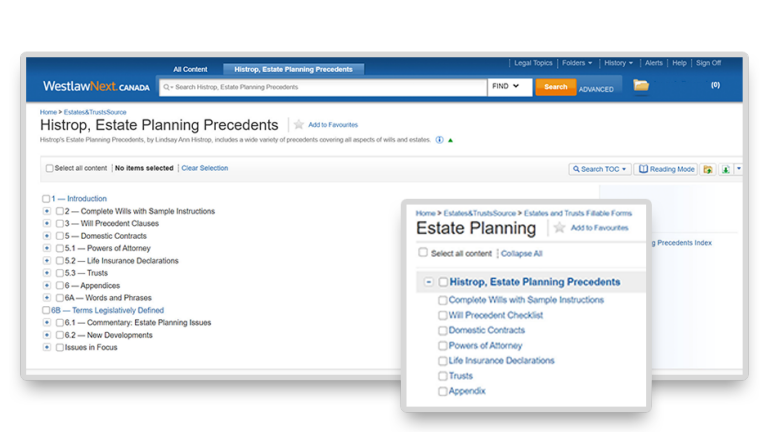 Access a highly regarded, well-drafted, always current, and comprehensive collection of precedents in a fully searchable online format.
---
Build-a-Will: Create customized, authoritative documents in minutes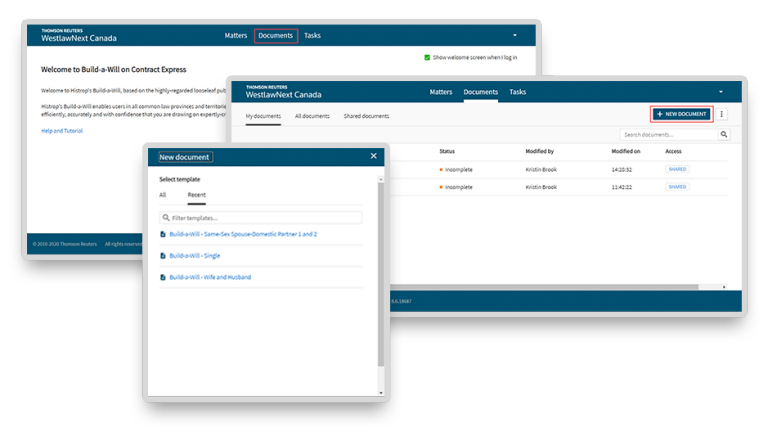 Create customized, authoritative documents in minutes utilizing precedent clauses from Histrop's Estate Planning Precedents. Reduce the time spent drafting and researching alternate clauses and gain efficiency in preparing high-quality, client ready wills. 
Access commentary and practical guidance along with a collection of forms and letters used in estate administration. Fillable statutory and authored forms such as checklists, letters, and precedents reduce the time spent drafting, editing and entering repetitive information. Court forms are fully formatted according to varying provincial standards and ready for filing. Printable checklists ensure that you don't miss any steps or information.
Support your estate litigation practice with access to premium research tools like a searchable version of Schnurr's Estate Litigation and fillable forms.
Pleadings, Motions and Facta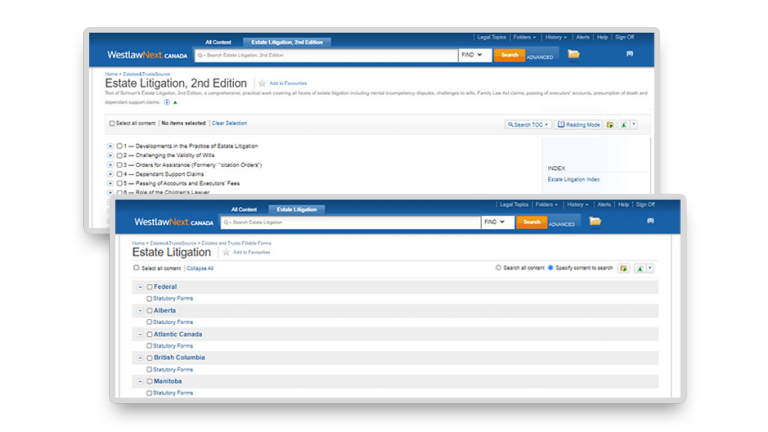 Pleadings, Motions and Facta Get the competitive advantage with access to actual Court Documents from leading Canadian Civil litigation actions. Gain a full understanding of legal arguments and be prepared with the insight you need to craft compelling arguments.
---
Dependants' Relief Quantums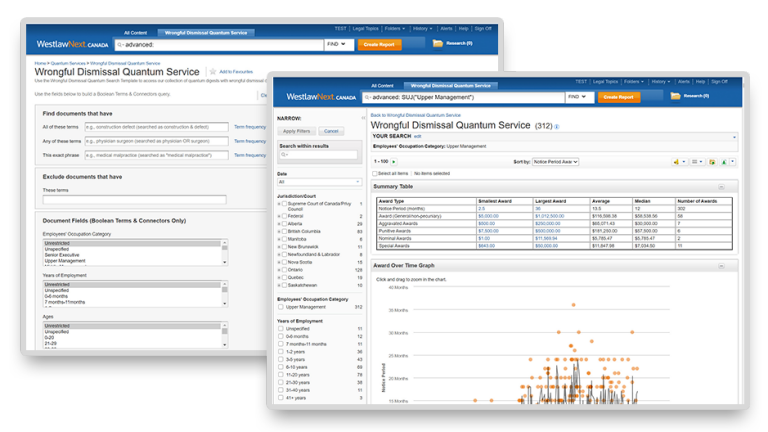 Find out what a claim is worth in a matter of minutes. Access 30 years of Canadian Cases in which the courts have overruled the provision of a will and awarded a dependant from the estate assets. 
This simple but powerful plan gives you access to regularly updated related Estates, Trusts & Wills case law and statutes, complete with the exclusive KeyCite citation service, as well as authoritative commentary.
Estates & Trust Case Law Collection
The Canadian Abridgment Case Law Digests
The Canadian Abridgment eDigests
Legislation
Rules Concordance
KeyCite Canada
Law Report Articles, Journals and Law Reviews
The Canadian Encyclopedic Digest
Index to Canadian Legal Literature
Words & Phrases
Estates and Trusts Commentary

Waters' Law of Trusts in Canada, 3rd Edition (Waters et al.)
Widdifield on Executors and Trustees (Theriault, ed.)
Estate Planning Precedents: A Solicitor's Manual (Histrop
Estate Litigation, 2nd Edition (Schnurr)
Estate Planning Handbook, 3rd Edition (Allen and Quinlan)
Estate Administration Manuals for Jurisdiction-Specific Guidance (practical step-by-step estate administration guidance; interactive checklists; fillable authored forms, documents and correspondence)
Armstrong's, Ontario Estate Administration Manual with provincial equivalents available for Alberta (Koski), British Columbia (Seckel), Manitoba (Geisbrecht), Saskatchewan (Hildebrandt), Atlantic Canada (Adlington) (new edition of Howlett, Estate Matters in Atlantic Canada).
WestlawNext Estates, Trust & Wills Solutions
Price varies by plan features
Take your research to the next level by adding other secondary sources, including expertly written forms, legal memos, newsletters, journals, and practice tools.
Pleadings, Motions, Facta
Dependents' Relief Quantums
Estates, Trusts and Pensions Journal
Legal Memos - 6500+ legal memoranda
O'Brien's Encyclopedia of Forms, Division V, Wills and Trusts
Proof of Facts – Estates