Be prepared for every step in the litigation process.
Litigation research on WestlawNext Canada connects with practical tools for evaluation, pleading preparation, arguing motions, trial preparation and more.
Be more confident with Practice Guides and Expert Commentary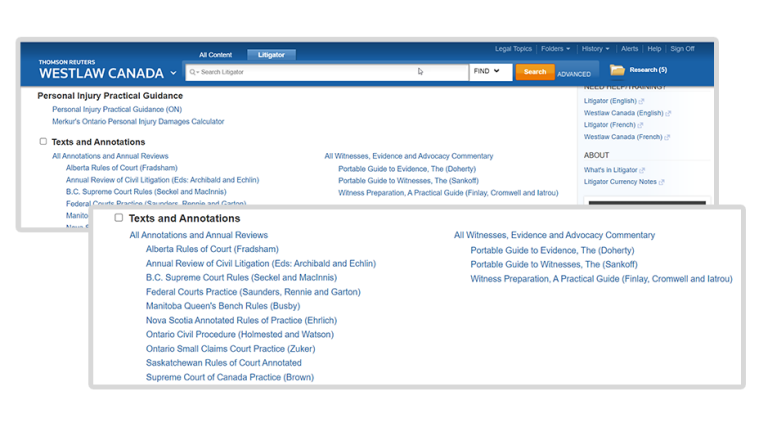 Practice Guides and Expert Commentary contain annotations from expert authors to help you interpret the rules of the court. And to help prepare for your trial date, key texts on Witnesses, Evidence, and Advocacy ensure that you are ready for unexpected challenges.
Save hours of tedious work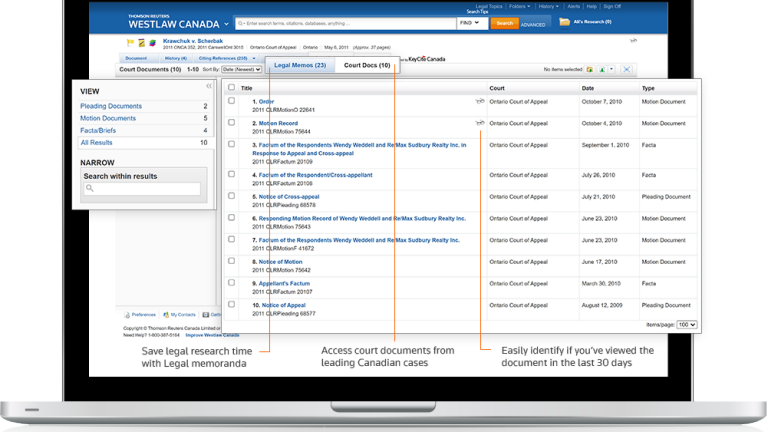 More than 170,000 superbly organized actual Court Documents save you endless hours of tedious work digging for information – letting you present a polished case with much less effort.  Learn more 
Actual pleadings/motion/facta from precedent setting Canadian cases (documents successfully submit in court)
Court tested arguments to help support or differentiate your case with pleadings, motion documents and facta
One search brings you all the related legal and factual content. From a case, link directly to related pleadings, motion documents and facta that seasoned litigators have used in court.
Guided by the case selection standards of 12 of the leading litigation focused case reporters from Thomson Reuters. See the list 
Evaluate instantly what a claim is worth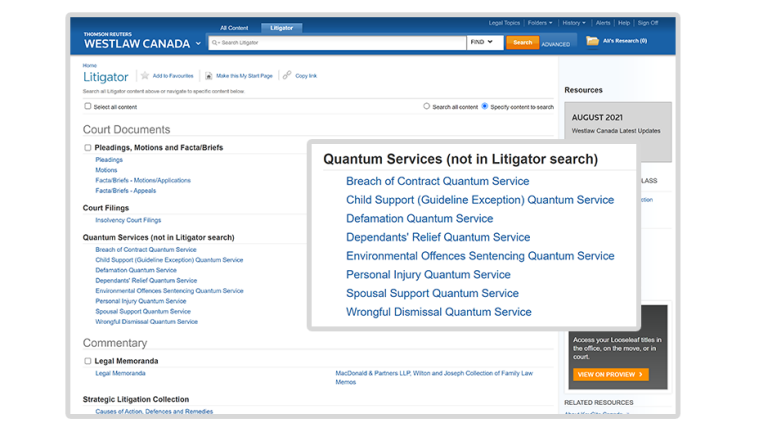 Quantums zero in on the relevant information with results structured so you can confidently answer the critical question: How much is this claim worth? 
8 topical Quantums service allow you to determine what similar cases have awarded and determine what a claim is worth. See how it works
Find the right witness that will help win your case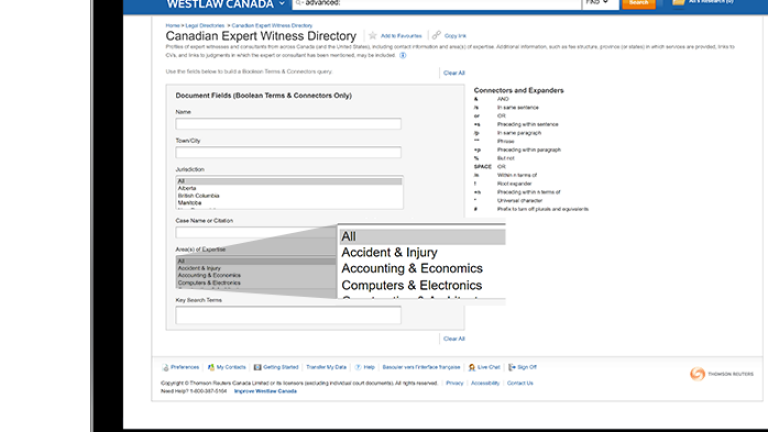 The information-rich Expert Witness Directory in Litigator provides profiles of experts from across Canada and the United States for a broad range of medical, technical, scientific, business, and family law issues. With the Expert Witness Directory, you have detailed information to choose an expert wisely or counter the opposition's witness.
Target your search by area of expertise
Save time locating contact data
Link to experts' resumes and judgments in which an expert is mentioned 
Uncover strengths and weaknesses in an expert's knowledge or testimony. Every Litigator subscription also includes online versions of the following:
ADR Professional Directory Contains profiles of individuals and organizations from across Canada who engage in Alternative Dispute Resolution. 
Canadian Lawyer Directory Contains more than 30,000 profiles of lawyers, law firms, and government ministries and departments from all Canadian jurisdictions, including contact information.
Create a table of authorities quickly and easily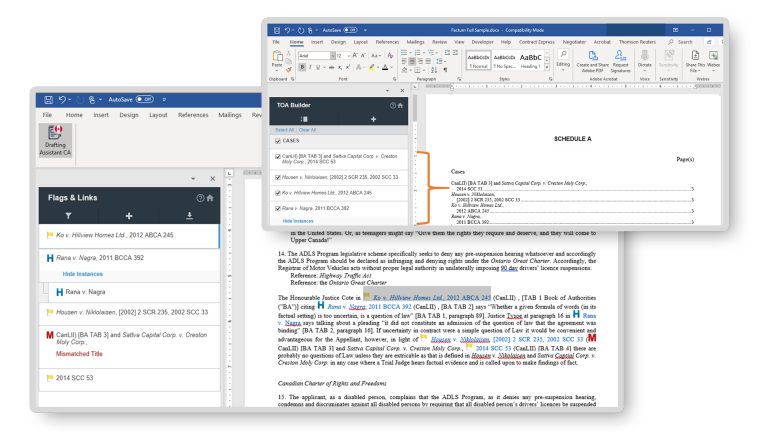 With Drafting Assistant, it's never been easier to instantly review your case citations on your drafted documents and quickly generate a table of authorities with your facta, motions or memos.
Tools that deliver answers and efficiency with the flexible all-in-one search box, WestlawNext Canada lets you simultaneously search across different content types with a single query and delivers you the best results faster. Search results are ranked by relevance and sorted by content type, so you can find what you need in minutes, not hours.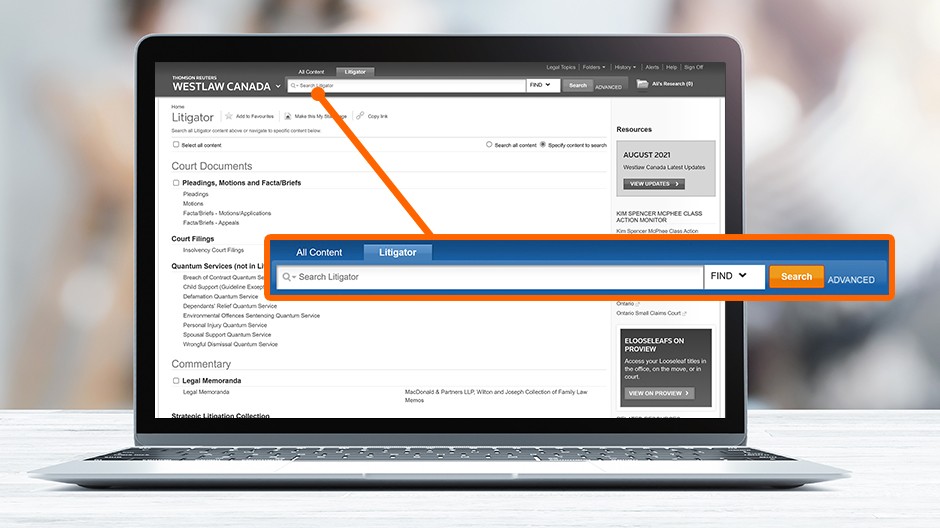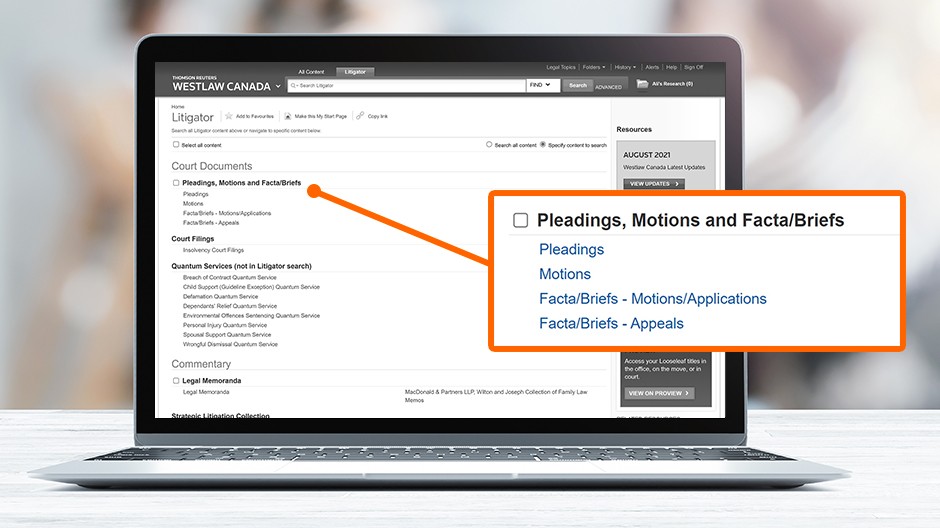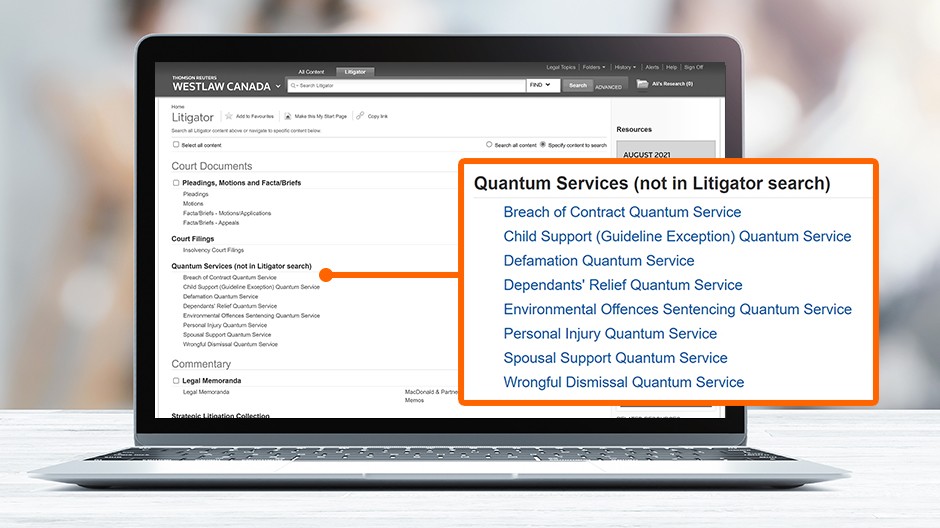 ---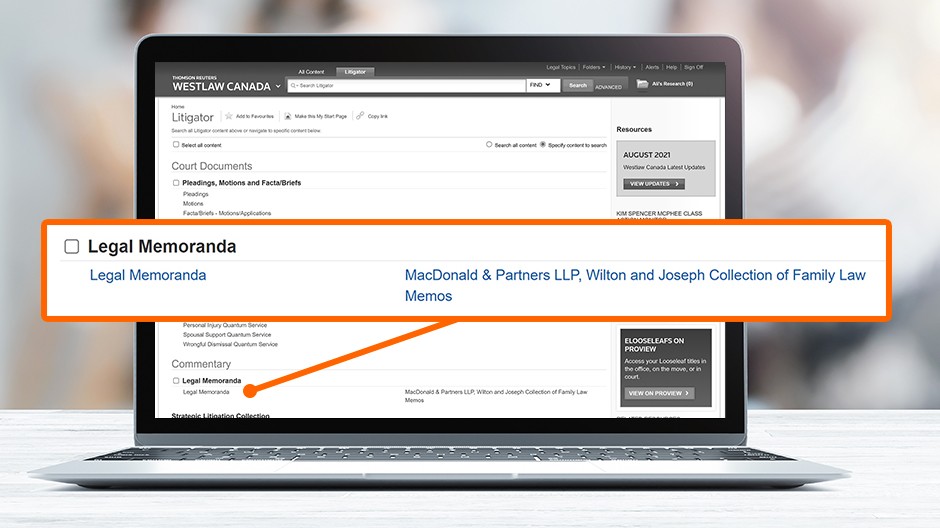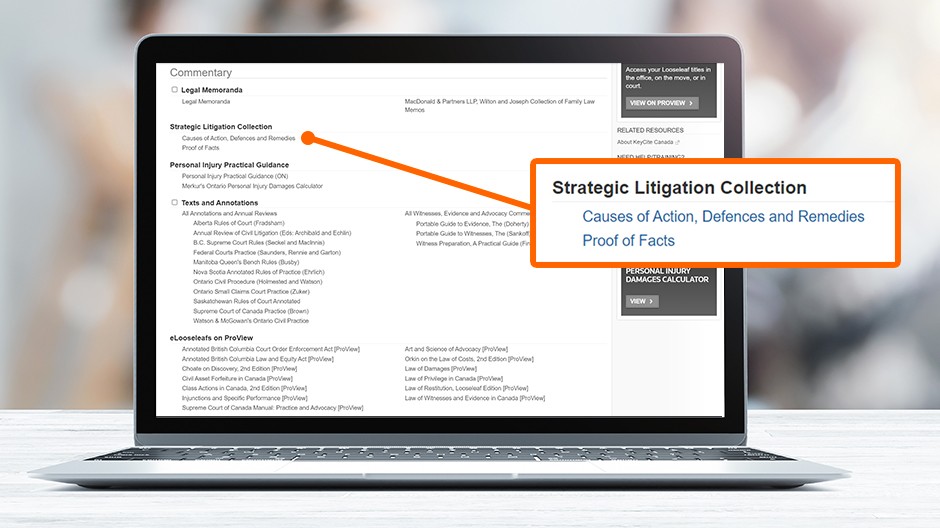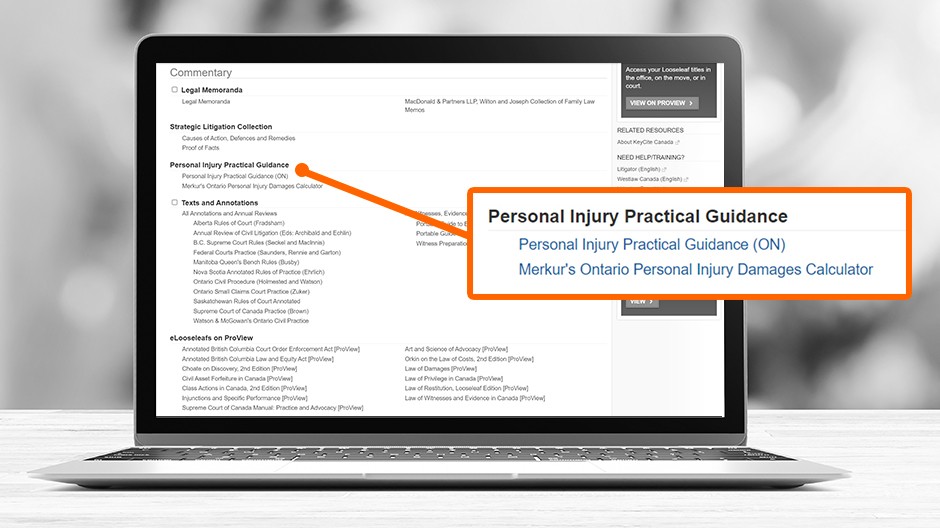 ---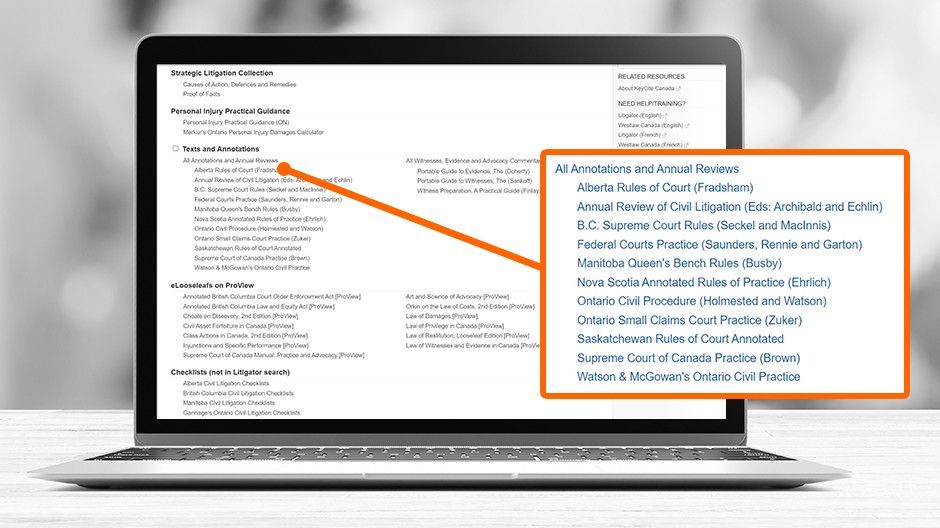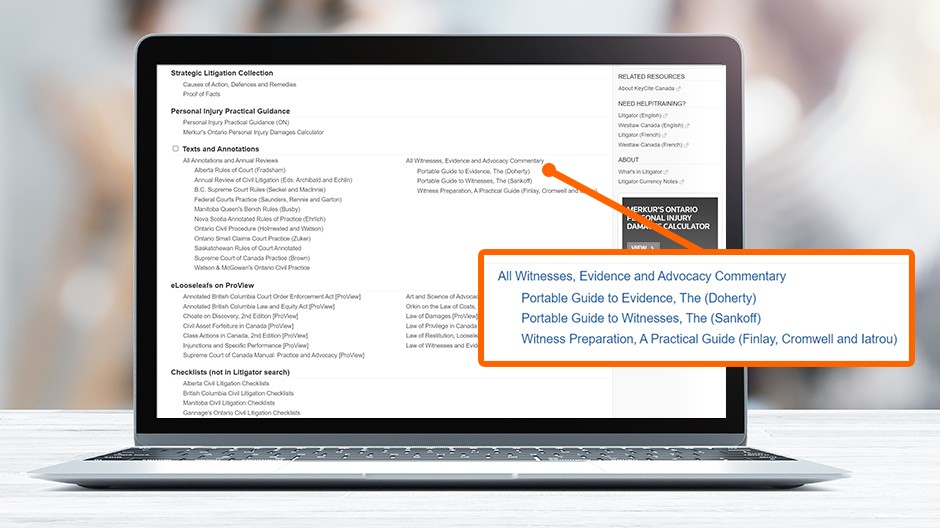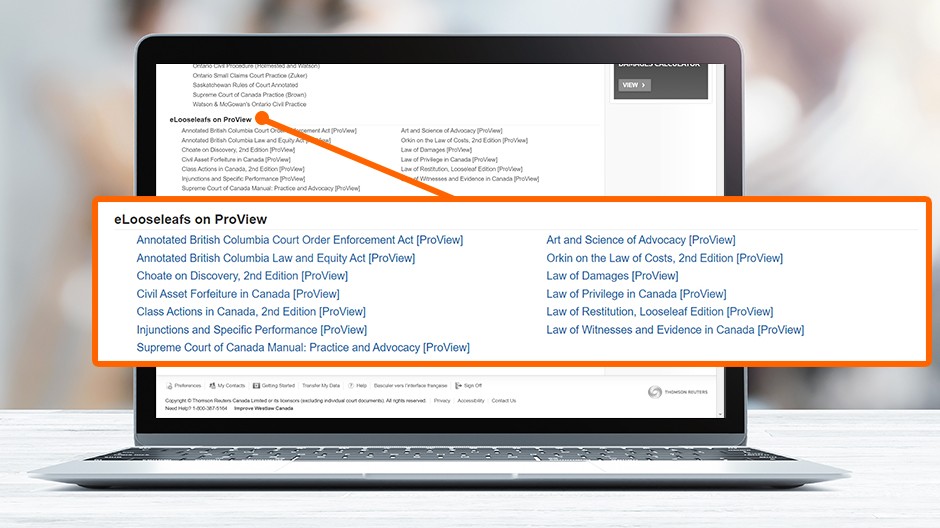 ---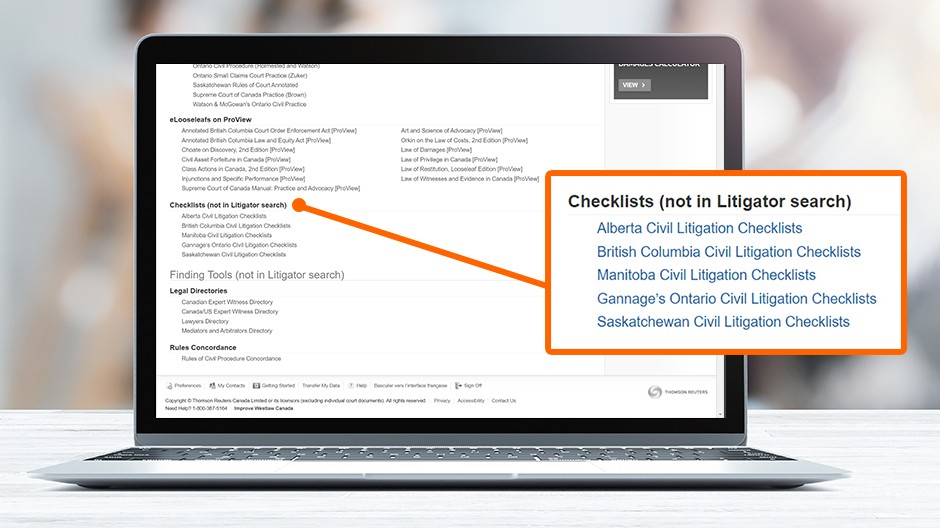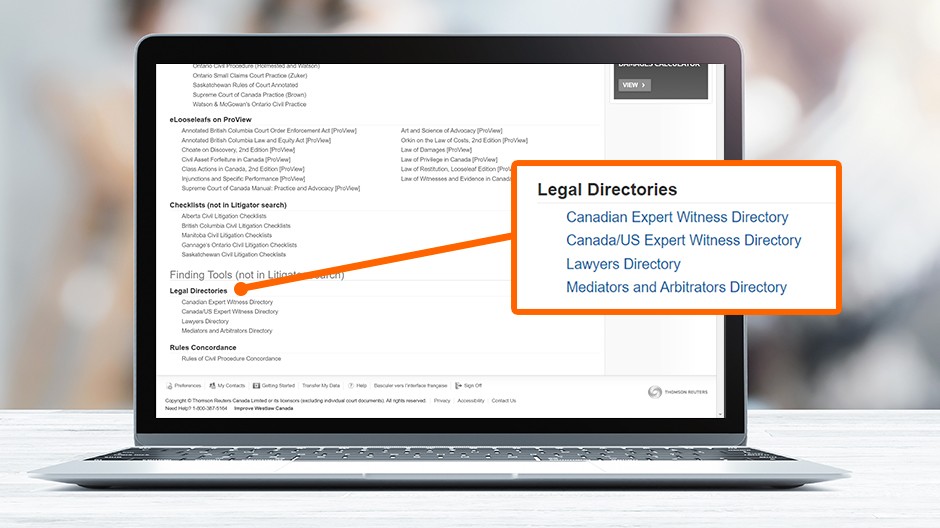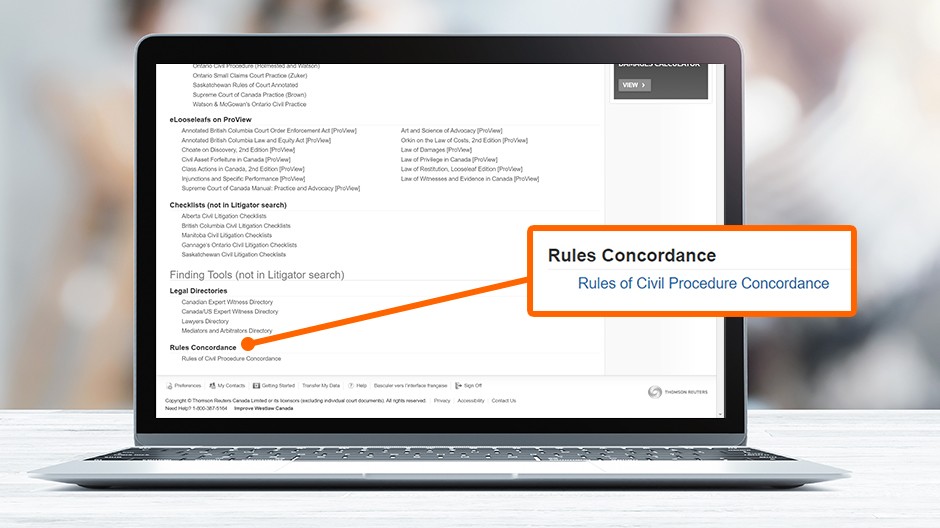 ---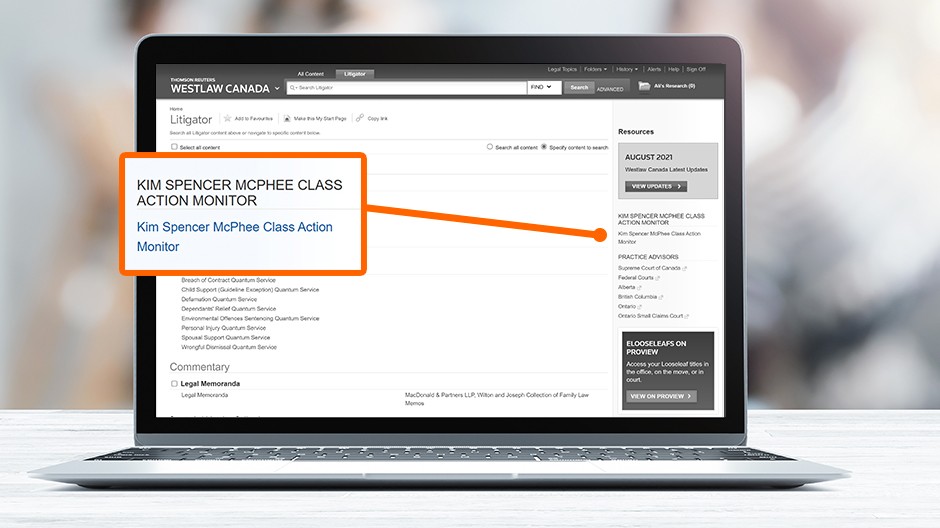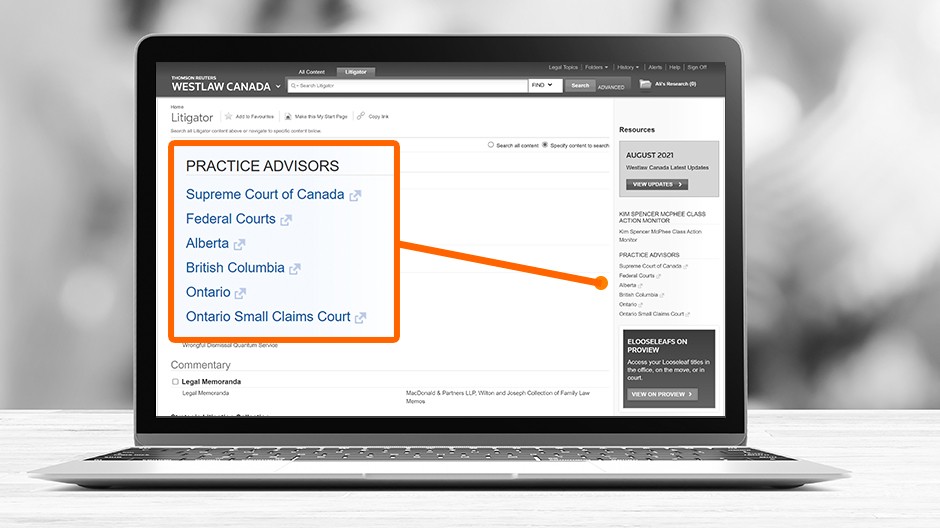 More Litigation Solutions available on WestlawNext Canada
Litigation research on WestlawNext Canada connects with practical tools for evaluation, pleading preparation, arguing motions, trial preparation and more. Enhance your Litigator subscription with the following solutions:
Legal case management software helps you organize, analyze, and collaborate on even the most complex cases.
Plot case strategies from both perspectives. Confidently and quickly identify all relevant case law on a particular cause of action from across all Canadian courts.
Full text of court filings made under the Companies' Creditors Arrangement Act, the Bankruptcy and Insolvency Act, or related Canadian legislation in which a party was represented by a member of the Insolvency Institute of Canada.
Stay up to date on class actions across Canada. Get insightful analysis of the latest class actions, as well as case updates, news and special-focus articles.
Cut straight to the heart of a specific issue with access to 500+ current, clear and concise legal memos.
Calculator quickly assess the value of a personal injury claim using different assumptions.
Make more of your limited time with trusted answers when you need them most.
Never miss a step or relevant consideration with the 'how-to tool' kit.
Quickly gather the evidence that matters, prepare for questioning­ witnesses more efficiently and save time on drafting examination­ and cross-examination questions.
The largest collection of texts and annotations for authored commentary.
Topical concordances of the rules of practice
This simple but powerful plan gives you access to Litigator a revolutionary workflow solution.
Case Law
The Canadian Abridgment Case Law Digests
The Canadian Abridgment eDigests
Legislation
Rules Concordance
KeyCite Canada
Law Report Articles, Journals and Law Reviews
The Canadian Encyclopedic Digest
Index to Canadian Legal Literature
Words & Phrases
Practice Guides and Expert Commentary

10 Annotated Rule Books
Archibald's Annual Review of Civil Litigation
Practice Advisor (Current Awareness)

Legal Directories (Canadian, Canadian/US Expert Witness Directory, Lawyers Directory, Mediators and Arbitrators Directory)
Rules of Civil Procedure Concordance
Drafting Assistant
Court documents collections
Add the following products to your Litigator collection for complete confidence
Civil Litigation Commentary and Checklists
Any other Court Documents collections

Business Law Reports
Cases on Employment Law
Cases on the Law of Insurance
Cases on Law of Torts
Pensions and Benefits
Environmental Law Reports
Construction Law Reports
Carswell's Practice Case
Estates&Trust Reports
Intellectual Property Cases
Municipal and Planning Reports
Real Property Reports

Kim Spencer McPhee Class Action Monitor
Quantums
Personal Injury Practical Guidance including Merkur Damages Calculator
Enhancements to Litigator
Take your litigation solutions to the next level. Try these additional litigation enhancements.
Causes of Action, Defences and Remedies
Proof of Facts Collection
ProView eBooks and eLLooseleafs
Legal Memos
InsolvencySource
Practical Law
Case Notebook

Speak to a representative for more information on pricing and demonstration
Fill out this brief form to complete your free demo request