November 16, 2023 Conference
SYNERGY2023
Thomson Reuters SYNERGY Canada 2023, User Conference for tax and accounting firm.
SYNERGY Canada 2023 User Conference
We are pleased to announce that SYNERGY Canada 2023 will be held virtually on November 16, 2023, allowing more firms to participate from coast to coast.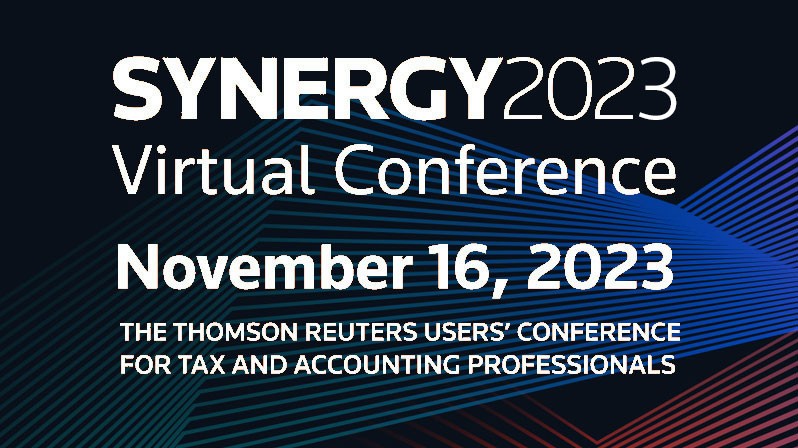 00:51
Our annual conference is a unique opportunity to:
• Discover what's on the horizon for Thomson Reuters DT Tax and Accounting
• Learn about important tax updates for tax year 2023
• Attend workshops hosted by experienced DT trainers and industry experts
• Interact with key support and training staff during virtual Q&A sessions
• Earn valuable CPD (Continuing Professional Development) credits
All the presentations and workshop sessions will be recorded and available to all registered users after the conference.
SYNERGY Canada for tax and accounting professionals is ideal for clients who want a better understanding of how to leverage the DT Professional Suite and other Thomson Reuters solutions, plus those who want to stay up to date with tax, trade, and technology trends. We want attendees to personally leverage our experts, resources, tools, and insights for their long-term planning and day-to-day needs.
SYNERGY will showcase and provide specialized sessions and workshops around DT Max professional Suite, Onvio, Practice Forward and other products, along with a conference agenda filled with breakout sessions, keynote speakers, and specialized experts centering around content-driven solutions and innovation for your firm. Conference attendees will have a perfect mix of networking, education, and training experiences.
REGISTRATION IS NOW OPEN!
Join us for this virtual and interactive event, with outstanding speakers and exciting workshops. Learn, discuss, and share as you explore the future of the tax and accounting with users and experts from coast to coast.

Thank you for the opportunity to be a part of this training. I've learned some very helpful tools to be used in my business.
Enjoyed the Tax Update and the features of DT TAX.
I hope the virtual option will always be available.
Call us at 1 866 653 8629